Oggi il team Rebug ha reso disponibile le caratteristiche di questo nuovo chip che sembra avere delle grandissime potenzialità, in quanto permetterebbe di avere tre accessori in uno, più precisamente il chip permetterebbe di usarlo come flasher,Jtag e RGH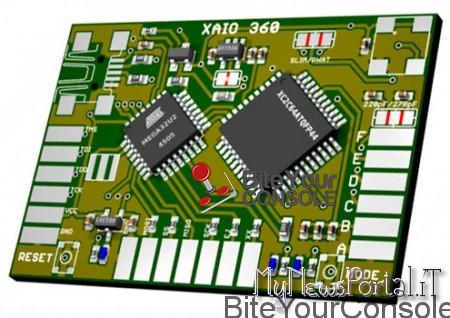 Tramite il sito ufficiale veniamo a conoscenza che il chip al momento è disponibile solo in un negozio inglese, ma sembra già esaurito, la lista dei negozi che venderanno Xaio 360 deve ancora essere stilata, sicuramente nei prossimi giorni ne varranno aggiunti altri, intanto andiamo a conoscere le caratteristiche del chip:
JTAG programming of onboard Xilinx via USB (No external programmer needed)
SPI Progamming of Xbox360 NAND via USB (No external programmer needed)
Fast swap between SPI and JTAG modes with a press of a button
Firmware upgradable for future XAIO 360 updates (No external programmer needed)
External Oscillator (Wiring to HANA is no longer required)
100% Compatible with NAND Pro v2.0 (3.0 is NOT supported!)
Compatible with all Xbox360 models (Except Xenon and Corona boards)
Booting of unsigned code on Xbox360
Compatible with all Xbox360 kernel versions
Very stable glitch times for both PHAT and SLIM (Usually within 3-30sec)
Easy 7 wire SPI installation for both PHAT and SLIM
Easy 5 wire RGH installation for PHAT, 6 wires for SLIM
Full 11 wire SPI/RGH installation for PHAT, 12 wires for SLIM (Only 1 GND point is needed so 1 less wire!)
Works as 6 wire JTAG-interface using UrJTAG* software (4 signals + power (TDI, TMS, TCK, TDO, VCC, GND))
Compact size of 47mm x 32mm (1.84″ x 1.28″)
Il sito ufficiale lo trovate qui, non è stato reso noto il prezzo con cui verrà venduto il chip "tuttofare", non appena avremo ulteriori notizie vi aggiorneremo.
Stay Tuned!
Il team Rebug rilascia Xiao 360
ultima modifica:
2012-01-26T21:25:45+01:00
da