Il deceloper Nazky pubblica una primissima beta di PS22PS4-GUI, lo strumento, simile per certi versi a PS2-FPKG, ci permette di convertire le immagini ISO/BIN della PlayStation 2 in FPKG da poter installare sulla console PlayStation 4.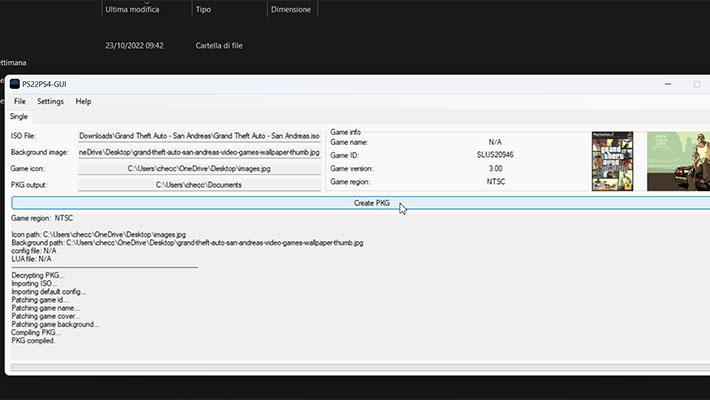 PS22PS4-GUI si presenta esclusivamente drag and drop, questo significa che file e cartelle dovranno essere trascinate sull'app, è inoltre possibile importare o creare una configurazione personalizzata.
and a new release because idk what sleep is

i have add roguev1 (and thanks to @PlayStationHaX i am going to add (almost) all emu)

the background is now optional (hello @StretchEcho)

Link: https://t.co/b98t56mxuh

i am too lazy to tag evryone but yeah luv u all

— Nazky (@NazkyYT) October 23, 2022
Si sono susseguiti due aggiornamenti nella stessa giornata che oltre a correggere alcuni bug, ha introdotto il supporto per l'emulazione RogueV1 (selezionabile dalle impostazioni del programma), mentre anche lo sfondo ora è opzionale.
Come usare
Scaricare l'archivio

PS22PS4-GUI.zip

ed estrarlo.
Eseguire l'applicazione e se richiesto scaricare e installare le runtime .NET Core.
Trascinare l'immagine ISO/BIN su ISO File.
Trascinare l'immagine di sfondo in Background image.
Trascinare l'immagine della icona di gioco in Game icon.
Trascinare la directory di salvataggio in PKG output.
[Facoltativo] Crea o importa una configurazione txt.
[Facoltativo] Crea oimporta una configurazione lua.
Changelog
Aggiunto supporto per RogueV1 emu (Settings -> Emulators -> RogueV1) + sfondo ora opzionale + alcune piccole correzioni.
Download: PS22PS4-GUI v0.3 Beta
Download: Source code PS22PS4-GUI v0.3 Beta
Fonte: twitter.com