Gli abbonati ad Amazon Prime questo mese potranno riscattare e scaricare su PC titoli del calibro di Stellaris, Ashwalkers: A Survival Journey, Golazo! Soccer League e tanti altri su Prime Gaming.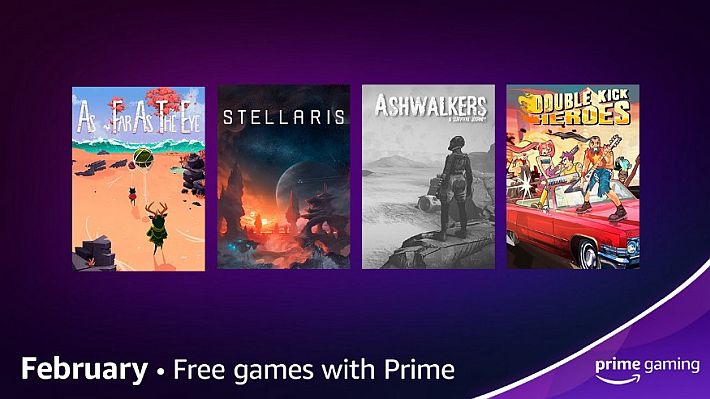 Prime Gaming è l'esperienza premium di Twitch inclusa per gli abbonamenti di Amazon Prime e Prime Video. I titoli verranno affiancati anche da diversi oggetti di gioco.
We've got a new month approaching, so you all know what that means! 🎉

Feast your eyes on the latest & greatest goodies you'll be able to grab in February, free if you have Prime.https://t.co/EOySiWdzkQ 👀 pic.twitter.com/S4iZ5sHTpN

— Prime Gaming (@primegaming) January 27, 2022
Giochi gratuiti con Prime
Stellaris
Esplora una galassia piena di meraviglie mentre i giocatori interagiscono con diverse razze aliene, scopri nuovi mondi strani con eventi inaspettati ed espandi la portata dell'impero attraverso le possibilità illimitate in questo grande gioco di strategia fantascientifico.
Ashwalkers: A Survival Journey
Intraprendi un viaggio di sopravvivenza in un mondo duro senza regole o giudizi mentre i giocatori gestiscono una festa, cibo e equipaggiamento, oltre ad affrontare dilemmi morali da una simulazione di sopravvivenza narrativa non lineare con 34 possibili finali.
As Far As The Eye
Costruisci un villaggio mobile e viaggia con una tribù al centro del mondo in questo gioco roguelike di gestione delle risorse a turni pieno di situazioni procedurali, eventi naturali, alberi delle abilità e scelte difficili.
Double Kick Heroes
Sopravvivi sull'autostrada per l'inferno massacrando un sacco di zombi in 24 livelli di pura follia.
Golazo! Soccer League
Divertiti allo stato puro con questo dinamico gioco di calcio arcade dotato di campi di medie dimensioni, senza falli e senza fuorigioco.
Fonte: twitter.com