Microsoft ha annunciato i titoli della Games with Gold per il mese di dicembre, già da domani gli utenti abbonati potranno scaricare The Escapists 2 e Orcs Must Die!, quest'ultimo uscito su console Xbox 360.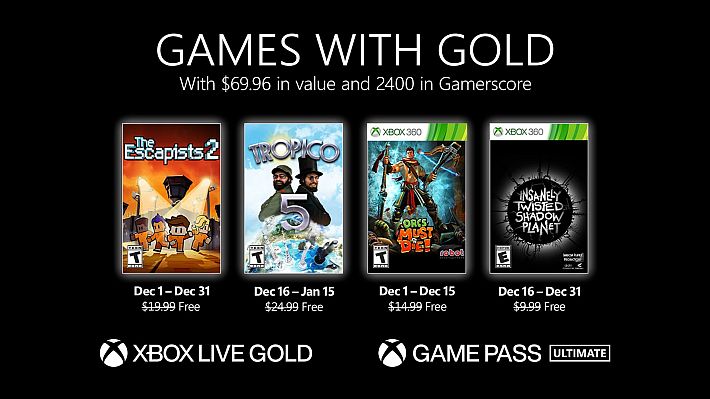 Dal 16 dicembre al 15 gennaio sarà possibile scaricare invece Tropico 5 – Penultimate Edition, mentre sempre dallo stesso giorno Orcs Must Die! verrà sostituito da Insanely Twisted Shadow Planet che potrà essere scaricato gratuitamente fino al prossimo 31 dicembre.
The Escapists 2
Dalla tundra al deserto, unisciti a tre dei tuoi amici per formare l'equipaggio definitivo e progettare le fughe più selvagge da alcune delle prigioni più dure del mondo.
Vivi secondo le regole, partecipa all'appello e segui rigide routine, il tutto mentre pianifichi ed esegui segretamente la tua offerta per la libertà!
Tropico 5 – Penultimate Edition
In questa Penultima Edizione, che include i componenti aggiuntivi The Big Cheese e Hostile Takeover, espandi il regno della tua dinastia dal primo periodo coloniale a oltre il 21° secolo.
Costruisci l'infrastruttura della tua città, pianifica le tue rotte commerciali e utilizza le nuove tecnologie, nel quinto capitolo della serie di costruzione di città preferita dai fan.
Orcs Must Die!
Nei panni di un potente mago della guerra, difendi ventiquattro fortezze da una folla di nemici bestiali, usando tutti i tipi di armi e trappole a tua disposizione. Non importa come riuscirai a farlo, ti divertirai un mondo a distruggere mostri furibondi in questo gioco fantasy e di strategia d'azione.
Insanely Twisted Shadow Planet
Esplora ambienti unici nel gioco di azione e avventura 2D, Insanely Twisted Shadow Planet. Raggiungi il centro del misterioso Pianeta delle ombre, il tutto mentre risolvi enigmi complessi e combatti contro creature bizzarre, mentre combatti per salvare il tuo mondo natale.
Fonte: news.xbox.com