Disponibile un primo aggiornamento per l'applicazione Trophy Unlocker, lo strumento sviluppato dal developer TheDarkprogramer ci permette di sbloccare i trofei su console PlayStation 4 jailbroken.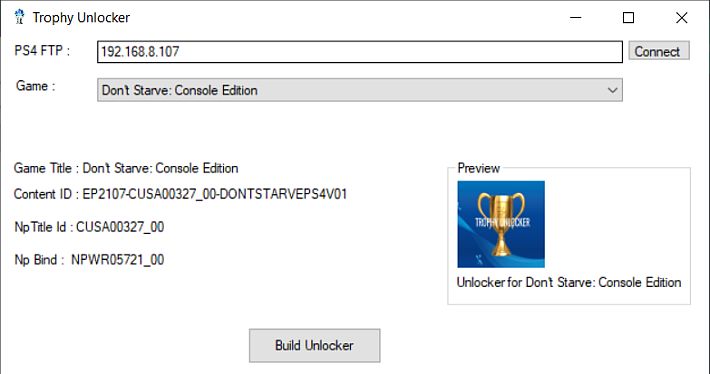 L'aggiornamento aggiunge il supporto FTP, questo significa che ora non dovremo più scaricare manualmente i file necessari dalla console PlayStation 4.
Here is a new version of Trophy Unlocker V1.1
It now uses FTP so no need to dump you're game files.https://t.co/DFrFxRyoOh@MODDED_WARFARE @DefaultDNB @PSXPlace @PlayStationHaX @PS3NewsDOTcom

— The Darkprogramer (@thedarkprogr) February 23, 2021
Basterà digitare semplicemente l'indirizzo IP, cliccare sul pulsante Connect, selezionare il gioco dal menu a tendina e cliccare sul pulsante Build Unlocker per creare il file PKG contenente i file patchati.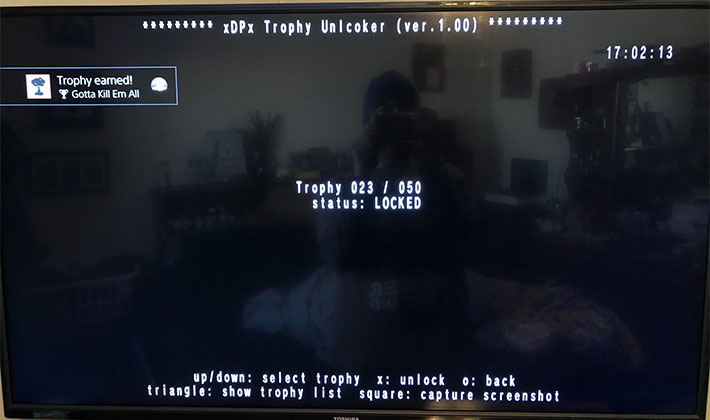 Una volta installato il file PKG sulla console PlayStation 4, eseguitelo, vedrete una schermata simile a quella presente nell'immagine sopra, utilizzate i pulsanti

e

per selezionare il trofeo che si desidera sbloccare.
Controlli
Premere i pulsanti e per selezionare il trofeo.
Premere per sbloccare il trofeo.
Premere per tornare indietro.
Premere per visualizzare la lista dei trofei.
Premere per catturare uno screenshot.
Download: Trophy Unlocker v1.1
Download: Source code Trophy Unlocker v1.1
Fonte: twitter.com