Lo store online della Epic Games questa settimana ci regala Enter the Gungeon e God's Trigger, l'eccellente dungeon crawler accompagna il Rogue-like a tema fantasy.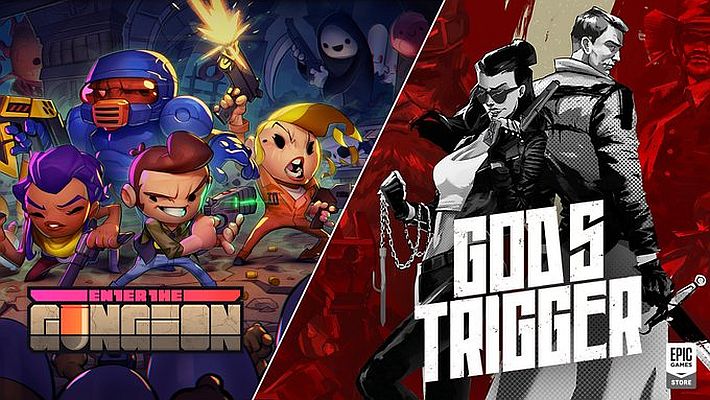 Enter the Gungeon è un dungeon crawler dominato da tremendi scontri a fuoco in cui una banda di disadattati tenta di redimersi sparando, saccheggiando e mettendo a ferro e fuoco tutto ciò che incontra sul suo cammino per mettere le mani sul leggendario tesoro del gungeon: un'arma in grado di distruggere il passato.
🔫 FREE THIS WEEK 🔫

Bullets. So many bullets. Enter the Gungeon and God's Trigger are free to claim on the Epic Games Store until August 27 and yours to keep forever! Now go shoot your shot. https://t.co/mqSSRoz26l pic.twitter.com/tM6w58kMbO

— Epic Games Store (@EpicGames) August 20, 2020
Seleziona un eroe e fatti strada fino alle profondità del gungeon sopravvivendo ai membri della setta dei morti e a temibili nemici armati fino ai denti.
Raccogli preziosi strumenti che ti torneranno utili nel corso della tua avventura, scopri misteriosi segreti e parla con mercanti senza scrupoli disposti a venderti i più letali strumenti di morte.
God's Trigger è un power fantasy in cui dovrai massacrare i nemici con rapidità e precisione in uno spettacolare tripudio di sangue ed esplosioni.
Fai irruzione in una stanza nel giro di pochi secondi per uccidere i nemici con una delle tante armi, abilità speciali, attacchi in mischia e pericoli ambientali a tua disposizione.
Se siete interessati, potrete riscattare e scaricare gratuitamente Enter the Gungeon e God's Trigger da questo indirizzo. Dal 27 agosto entrambi i giochi verranno sostituiti da HITMAN e Shadowrun Collection.
Fonte: twitter.com
Enter the Gungeon e God's Trigger gratuiti su Epic Games Store
ultima modifica:
2020-08-23T19:07:18+02:00
da