Disponibile un nuovo aggiornamento per PS4 PKG Sender, il tool sviluppato dal developer FrostySo per PC Windows che se eseguito e correttamente configurato ci permetterà di inviare i file PKG sulla console PlayStation 4.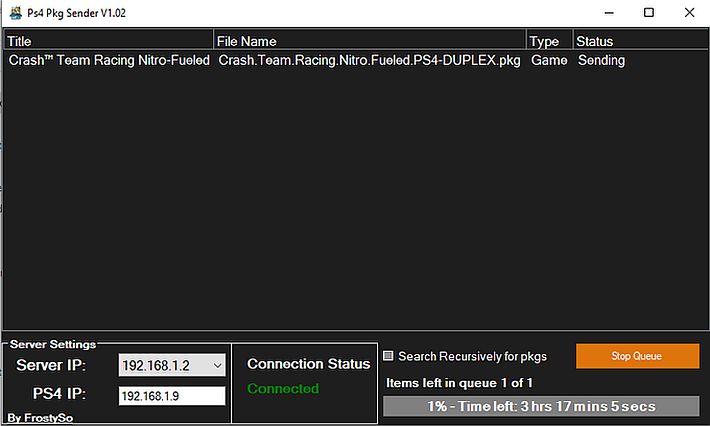 Il programma si comporta esattamente come Filezilla o altri client FTP simili, anche se questo strumento è stato realizzato per operare solo con file di giochi, aggiornamenti e DLC in formato PKG.
Ps4 Package Sender v1.04

Download: https://t.co/MiZVTbiTVU

Changelog

-Added sort by column (won't change queue order though) and delete item
-Fixed a bug that made sending from other drives fail for some people
-A few modifications made to help with some DLC's not installing

— frostyso (@frostysodev) August 13, 2020
Requisiti
Node.js http-server (vedi sotto per l'installazione)
Una volta installato Node JS, aprire il prompt dei comandi e incollare questo comando:
npm install http-server -g
Guida
L'ordine di importazione dei file PKG non ha importanza. Il programma verrà installato automaticamente in questo ordine:
Games -> Patches -> DLC -> Themes
Il programma combinerà automaticamente anche patch multiparte se la formattazione segue la convenzione di denominazione standard di Sony.
Eseguire il programma di installazione di file PKG sulla PS4.
Trascinare e rilasciare i file PKG (o le cartelle) nella GUI.
Scegliere l'indirizzo IP del server.
Scegliere l'indirizzo IP della PS4.
Attendere che lo stato della connessione dica Connected.
Elaborare la coda!
Caratteristiche di base
Search Recursively for pkgs: Se una cartella viene importata, con questa opzione selezionata, tutte le sottocartelle verranno cercate per i file pkg.
Opzioni del menu contestuale
Requeue Item(s).
Mark As Theme (se stai installando/disinstallando un tema, usalo per contrassegnarlo come tema).
Mark For Uninstall.
Clear All.
Changelog
Aggiunto ordinamento per colonna (non cambierà l'ordine della coda) ed elimina l'elemento.
Corretto un bug che impediva ad alcune persone di inviare i file PKG da altre unità.
Alcune modifiche apportate per aiutare con alcuni DLC non installati.
Problemi noti
L'installazione dei temi è buggata per temi in più parti. Questo è un problema con lo stesso programma di installazione del pacchetto, non con il mittente del pacchetto.
Download: PS4 PKG Sender v1.04
Download: Source code PS4 PKG Sender
Fonte: twitter.com
[Scena PS4] Rilasciato PS4 PKG Sender v1.04
ultima modifica:
2020-08-13T12:41:00+02:00
da