Dopo il download gratuito di The Darkness II su PC, arriva un altro titolo da poter riscattare e scaricare su Humble Store, si tratta di Spec Ops: The Line.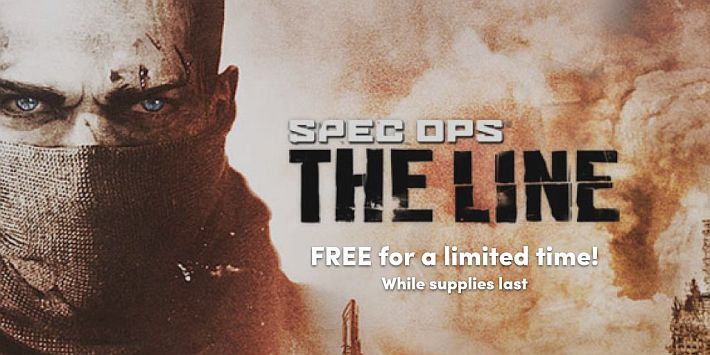 Sono passati 6 mesi da quando Dubai è stata spazzata via dalla cartina a causa di una tempesta di sabbia senza precedenti. Migliaia di vite sono andate perse, incluse quelle dei soldati americani inviati per evacuare la zona.
Oggi la città giace sepolta sotto la sabbia come una vera e propria cattedrale nel deserto. E' stato captato un misterioso segnale radio proveniente da Dubai e una squadra di ricognizione Delta è stata inviata in città.
La sua missione è semplice: localizzare eventuali superstiti ed evacuarli. Quello che i soldati si troveranno davanti è una città stretta nella morsa della guerra: per salvare Dubai, dovranno trovare l'uomo responsabile di questa follia – il Colonnello John Konrad.
Caratteristiche
Una nuova rappresentazione del genere sparatutto militare, caratterizzata da una narrazione avvincente.
Il gameplay unico nel suo genere offre un inteso e personale punto di vista, riguardo brutalità ed emozioni che vengono vissute in guerra.
Guida una squadra di uomini addestrati della Delta Force in una zona di guerra estremamente pericolosa e imprevedibile.
Oltrepassa "La Linea" in una storia matura che esplora il lato oscuro della guerra, dove non ci sono spiragli di luce ma soltanto cattive o pessime scelte.
L'ambientazione unica di Dubai trasporta i giocatori in un terreno di gioco estremamente ampio, caratterizzato da un gameplay verticale e da una visuale sbalorditiva.
Una Dubai ricoperta dalla sabbia offre una esperienza di gioco completamente nuova, caratterizzata da "valanghe" di sabbia e cruenti combattimenti nelle tempeste di sabbia.
Modalità Multiplayer personalizzabile, focalizzata sulle classi.
Potrete scaricare il gioco completo via Steam collegandovi a questo indirizzo per PC Windows, Linux e Mac.
Spec Ops: The Line gratuito su PC, scaricalo ora
ultima modifica:
2018-03-29T20:42:48+02:00
da