Disponibile per un periodo limitato il download gratuito di The Darkness II su PC, uno sparatutto in prima persona basato sulle avventure di Jackie Estacado e della Tenebra, un' antica e oscura forza demoniaca che porta caos e distruzione.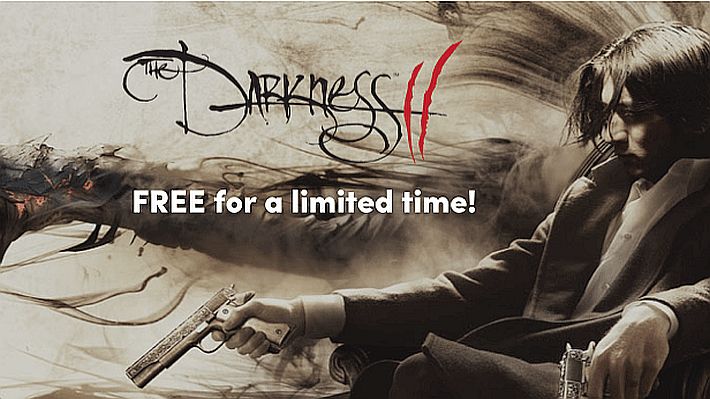 The Darkness II si differenzia per il suo nuovo stile grafico (graphic noir style) ed è l'unico sparatutto in prima persona ad utilizzare la meccanica Quad-Wielding, che permette ai giocatori di afferrare, squarciare e lanciare oggetti e nemici attraverso gli arti demoniaci che impugnano in contemporanea due armi.
Caratteristiche gioco
Caos a quattro mani: affetta i tuoi nemici, afferrali e scaglia oggetti con le tue braccia demoniache mentre allo stesso tempo fai fuoco con le armi, aggiungendo una nuova dimensione al genere degli sparatutto in soggettiva.
Sfrutta un potere inarrestabile: padroneggia le braccia demoniache, evoca uno sciame di insetti oscuri e modella il potere della tenebra in tanti altri modi per un gioco ancora più esplosivo.
Spegni la luce: i tuoi orribili poteri, in grado di fare a brandelli i nemici, si manifestano solo in assenza di luce. Starà a te creare strategicamente zone d'ombra per sfruttarli al massimo.
Coinvolgente narrazione interattiva: la storia, avvincente e originale è stata scritta in esclusiva per il gioco dall'acclamato sceneggiatore di fumetti Paul Jenkins, autore tra l'altro di Hellblazer, L'Incredibile Hulk e Wolverine.
Originale stile artistico noir: il colore e le sfumature da fumetto sono combinate con un'illuminazione tipicamente cinematografica per far provare la sensazione di essere all'interno di una graphic novel.
Potrete scaricare il gioco completo via Steam collegandovi a questo indirizzo per PC Windows, Linux e Mac.
The Darkness II gratuito su Humble Store, scaricalo ora su PC
ultima modifica:
2018-03-27T01:25:16+02:00
da