Il developer koolkdev ha rilasciato un semplice quanto utile strumento che può essere utilizzato per scaricare il contenuto dei dispositivi WFS (MLC o USB).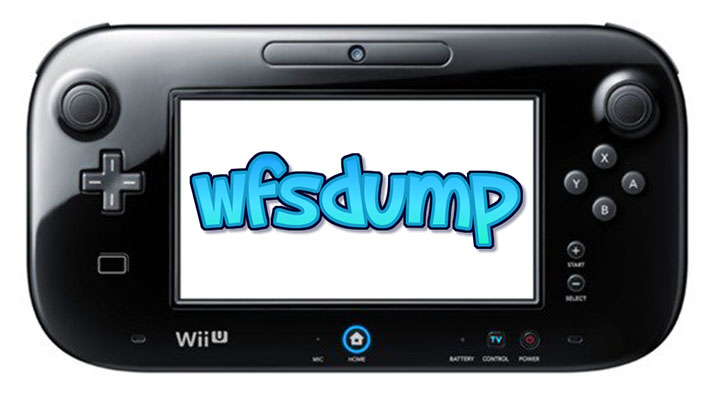 L'applicazione wfsdump è un semplice tool di riga di comando che include al suo interno la libreria wfslib scritta in C++ per WFS. Per il momento la libreria supporta solo i file di lettura, la modifica dei suddetti file WFS richiederebbe un lavoro più profondo e una possibile riscrittura dell'intero codice sorgente.
L'unica funzione che non viene supportata in questo momento sono i collegamenti, che vengono ignorati attualmente da wfsdump.
Guida
wfsdump --help
Utilizzo
wfsdump --input <input file> --output <output directory> --otp <opt path> [--seeprom <seeprom path>] [--mlc] [--usb] [--dump-path <directory to dump>] [--sector-size 9/11/12] [--verbos]
Opzioni consentite
--help produce help message
--input arg input file
--output arg ouput directory
--otp arg otp file
--seeprom arg seeprom file (required if usb)
--dump-path arg (=/) directory to dump (default: "/")
--mlc device is mlc (default: device is usb
--usb device is usb
--verbos verbos output
--sector-size arg (=9) sector log2 size of device. 9 for 512 bytes (default), 11 for 2048 bytes and 12 for 4096 bytes
Esempio
Effettua il dump mlc dal backup
wfsdump --input mlc.full.img --output dump_dir --otp otp.bin --mlc
Effettua il dump del dispositivo USB sotto Windows
[stextbox id='info']Nota: Eseguire l'operazione dal prompt dei comandi con diritti di amministrazione.[/stextbox]
wfsdump --input \\.\PhysicalDrive3 --output dump_dir --otp otp.bin --seeprom seeprom.bin --sector-size 9
È possibile calcolare il corretto ID e la dimensione del settore eseguendo il comando PowerShell:
Get-Disk | Format-List
Guarda l'uscita per quelle righe per il tuo dispositivo: (Sostituisci PhysicalDrive3 nel comando di esempio con il numero corretto del dispositivo)
Number : 3
PhysicalSectorSize : 512
Per 512 byte, specificare 9 (l'impostazione predefinita), per 2048 byte specificare – dimensione del settore 11 e per 4096 byte specificare – dimensione del settore 12. Le unità flash usano solitamente dimensioni del settore di 512 byte e l'HDD utilizza di solito 4096. Più vecchi possono utilizzare 2048.
Download: wfsdump v0.1