Pochi minuti fa, sul proprio sito ufficiale, Hackulous ha pubblicato un annuncio che potremmo definire epocale intitolato "Goodnight, sweet prince" in cui viene annunciata la chiusura definitiva del portale e di tutte le attività ad esso collegate.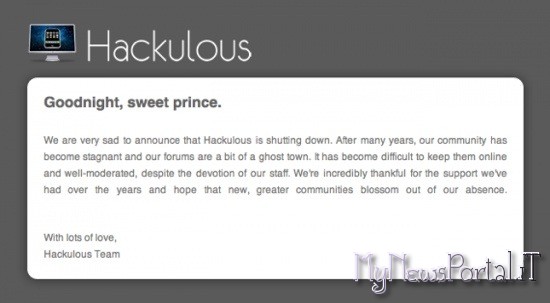 Per chi non lo sapesse il portale Hackulous fin dal 2008, nascita di App Store, ha portato avanti il progetto che sta dietro a Installous ed al famosissimo sito Apptrackr. Grazie a questo portale era possibile scaricare ed installare gratuitamente le ipa curate delle app normalmente a pagamento su App Store.
Ecco l'annuncio pubblicato sul sito:
Goodnight, sweet prince.

We are very sad to announce that Hackulous is shutting down. After many years, our community has become stagnant and our forums are a bit of a ghost town. It has become difficult to keep them online and well-moderated, despite the devotion of our staff. We're incredibly thankful for the support we've had over the years and hope that new, greater communities blossom out of our absence.

With lots of love,
Hackulous Team
In sostanza Hackulous ha annunciato la chiusura definitiva del portale dopo diversi anni di attività in cui si era creata una vera e propria community di utenti che contribuivano allo sviluppo della stessa, producendo e condividendo materiale illecito. Da quanto si legge, il motivo della chiusura di Hackulous è da ricercarsi nell'ormai spento interesse da parte degli utenti nella fruizione dei servizi offerti.
Pur non essendo specificato con ogni probabilità Installous che AppSync non verranno più aggiornati in futuro per supportare le nuove versioni di iOS e relativi jailbreak. Il primo, poi, basando buona parte del suo funzionamento proprio sui server di Hackulous, potrebbe smettere di funzionare già nei prossimi giorni.
Si preannunciano quindi tempi sempre più difficili per i jailbreakers nel 2013.