Nei giorni scorsi Swizzy ha rilasciato un nuovo software.Stiamo parlando di x360 NAND Dump Checker, alla sua prima versione .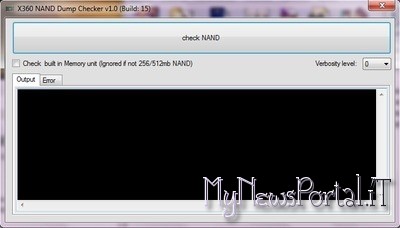 Questo programmino consente di….
verificare lo stato del dump effettuato sulla nand semplicemente selezionandolo.
È dedicata a tutti i possessori di console su cui sia stato effettuato il metodo JTAG/RGH (giochi multidisco).
Ecco la spiegazione dei risultati del check sul nostro dump effettuato:
Verbosity level 0 = Normal, default level, only prints badblock info for each block and most errors/warnings

Verbosity level 1 = Medium, prints all bad pages and all errors/warnings

Verbosity level 2 = Full, prints ECC information for each page bad, and page status…

Verbosity level 3 = Debug, prints information of each page and more…
Noi vi lasciamo al download, dove troverete due versioni, una in CMD, l'altra in GUI.
Link Download
Stay Tuned on MyNewsPortal.iT