Apple ha appena rilasciato un nuovo aggiornamento per il suo sistema operativo: OS X 10.7.4. Il quarto aggiornamento di Lion può essere scaricato, come di consueto, tramite Aggiornamento Software direttamente dal menu principale. the fourth maintenance update for Lion, and can be found through Software Update.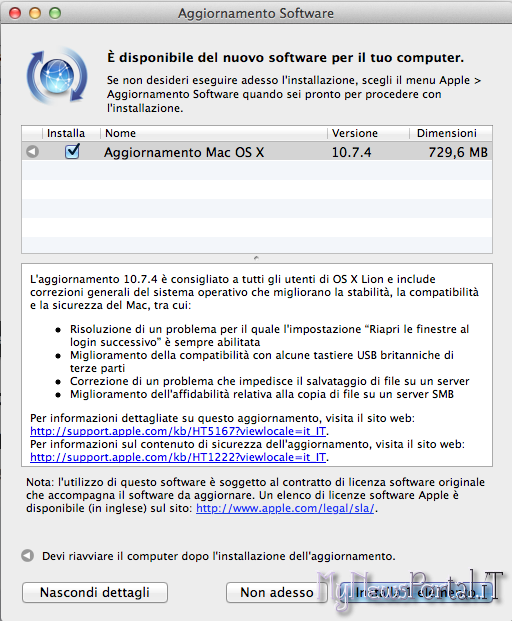 L'update in questione pesa circa 730MB ed è consigliato a tutti gli utenti dato che include una serie di correzioni generali del sistema che migliorano sia la stabilità che la sicurezza del sistema, tra le altre novità troviamo invece:
Risoluzione di un problema per il quale l'impostazione "Riapri le finestre al login successivo" è sempre abilitata
Miglioramento della compatibilità con alcune tastiere USB britanniche di terze parti
Correzione di un problema che impedisce il salvataggio di file su un server
Miglioramento dell'affidabilità relativa alla copia di file su un server SMB
Vi ricordiamo che la procedura per aggiornare il sistema è la seguente:
– Effettuare un backup di sistema tramite Time Machine o software di terze parti; questo passaggio non è obbligatorio ma è sempre consigliato quando si effettuano modifiche significative al software.
– Cliccare sul simbolo della Mela () nella barra di stato in alto e selezionare l'opzione Aggiornamento Software, dopo una breve verifica degli aggiornamenti disponibili vi verrà notificato l'aggiornamento in questione.
– Una volta cominciata la procedura d'installazione è altamente sconsigliato spegnere il computer o interrompere la procedura, pertanto è preferibile collegare il vostro Mac ad una sorgente di alimentazione continua qualora si tratti di un portatile. Al termine della procedura sarà necessario un riavvio completo del sistema.
Apple rilascia OS X 1.7.4
ultima modifica:
2012-05-09T23:47:21+02:00
da