Era un po' di tempo che il team del true blue non si faceva sentire. Proprio in questi giorni hanno aggiornato il proprio sito rassicurando tutti di non essere spariti, ma di essersi solamente presi qualche giorno di ferie per le festa natalizie.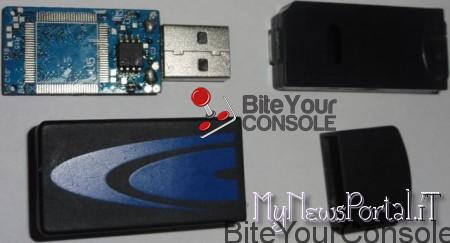 Per chi ancora non conoscesse il dongle per PS3, in pratica si tratta di una chiavetta delle più comuni che possiamo trovare in circolazione dove è possibile giocare giochi che richiedono firmware 3.6+ da firmware 3.55. Per poter usufruire di tale modifica il team rilascia periodicamente Eboot per nuovi giochi che altrimenti non partirebbero.
Proprio per questo il team assicura che una volta ripresi i lavori saranno rilasciati
nuovi Eboot di giochi che molti attendono.
solo per darvi un'idea dei giochi con cui è possibile giocare con il true blue vi abbiamo stilato tale lista:
Assassin's Creed: Revelations
Alice Madness Returns
Bleach: Soul Resurreccion
Bodycount
Call of Duty Modern Warfare 3
Call of Juarez: The Cartel
Captain America Super Soldier
Catherine
Child of Eden
Dark Souls
Dead Island
Deus Ex Human Revolution
Dirt 3
Dragon Ball Z: Ultimate Tenkaichi
Dungeon Siege III
Dynasty Warriors: Gundam 3
F1 2011
Fear 3
Fifa 12 (solo con disco originale inserito)
Kung Fu Panda 2
GoldenEye 007 Reloaded
Green Lantern Rise Of The Manhunters
Harry Potter and the Deathly Hallows – Part 2
Lord Of The Rings War in The North
NBA 2K12
Need For Speed: The Run
No More Heroes: Heroes' Paradise
PES 12 (solo con disco originale inserito)
Portal 2
RAGE
Ratchet & Clank: All 4 One
Rayman Origins
Record of Agarest War Zero
Red Faction Armageddon
Saints Row The Third
Sonic Generations
Shadows of the Damned
The Cursed Crusade
The Idolmasters 2
The Elder Scrolls V Skyrim
The King of Fighters XIII
Ultimate Marvel vs Capcom 3
White Knight Chronicles II
Warhammer 40000 Space Marine
WWE 12
NCIS The Game
LEGO Pirates of the Caribbean
Just Dance 3
Bleach Soul Ignition
Carnival Island
Atelier Meruru
Kidou Senshi Gundam Extreme
Saint Seiya Senki
Sengoku Musou 3
Tales of Xillia
Il team del True blue si scusa per questi giorni in cui son mancate le novità ma assicura che nei prossimi giorni ne vedremo delle belle.
Queste le parole del team che vi abbiamo appena descritto:
Just a quick update to let everyone know that yes, we are still alive and we apologise for the slowed pace of releases over the holiday period and any inconvenience this may have caused our valued customers. Our entire team is now back to work after the holiday break, working hard to prepare the next round of EBOOT releases which will include some highly anticipated titles. Stay tuned for further updates..
Stay Tuned!