Pubblicato un rapido aggiornamento per PS5 BD-JB ELF Loader, la ISO sfrutta le vulnerabilità scoperte nel livello BD-J dal firmware 3.0 al firmware 4.51 della console PlayStation 5.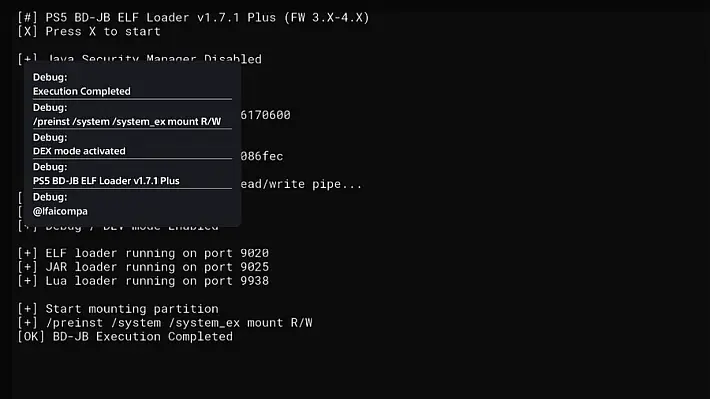 Un aspetto distintivo di questa modalità di exploit è che può essere eseguita completamente offline (intranet), a condizione che si disponga di una console PlayStation 5 con lettore ottico.
📀Update PS5 BD-JB ELF Loader v1.7.1 Plus

[+]Add partition mount R/W

💀No matter what you do you will have R/W permissions, so don't run unknown elf

👌You can directly load FTP and you will have R/W permissions without entering any custom commands

☑️https://t.co/3MHYKfYcm3 https://t.co/5QXGFOAMoP pic.twitter.com/7JwVc6aYi0

— ナイスなすさん🍆 (@Ifaicompa) September 19, 2023
Questa nuova versione introduce una funzionalità di montaggio di partizioni con permessi di lettura/scrittura. Indipendentemente dalle azioni compiute, questa versione garantirà permessi di lettura/scrittura.
Si sottolinea l'importanza di evitare di eseguire file ELF sconosciuti e, al contrario, è possibile caricare direttamente FTP per ottenere i permessi di lettura/scrittura desiderati senza dover inserire comandi personalizzati.
Questo aggiornamento segue la versione 1.7.0, che aveva introdotto la possibilità di installare file PKG e fPKG tramite il TargetID Dex, con alcune limitazioni sui DLC.
Per eseguire questo exploit, è necessario che la console PlayStation 5 sia dotata di lettore, mentre la ISO dell'exploit deve essere masterizzata su un disco Blu-Ray Verbatim utilizzando un masterizzatore compatibile, come il modello Asus Bw-16D1H.
Offerta
Asus Bw-16D1H Masterizzatore Esterno Blue...
Supporto BDXL, fino a 128 GB di archiviazione dei dati su un solo disco
Interfaccia: USB 3.2 Gen 1 (3.1 Gen 1)
Tecnologia Magic Cinema con supporto Blu-ray 3D
Prodotto di ottima qualità
Download: PS5 BD-JB ELF Loader v1.7.1 Plus
Download: File di esempio
Download: Source code PS5 BD-JB
Fonte: twitter.com