Secondo giro di titoli in arrivo a novembre per gli abbonati a PlayStation Plus Premium e PlayStation Plus Extra che avranno modo di giocare a titoli del calibro di The Elder Scrolls V: Skyrim, Rainbow Six Siege e Kingdom Hearts III.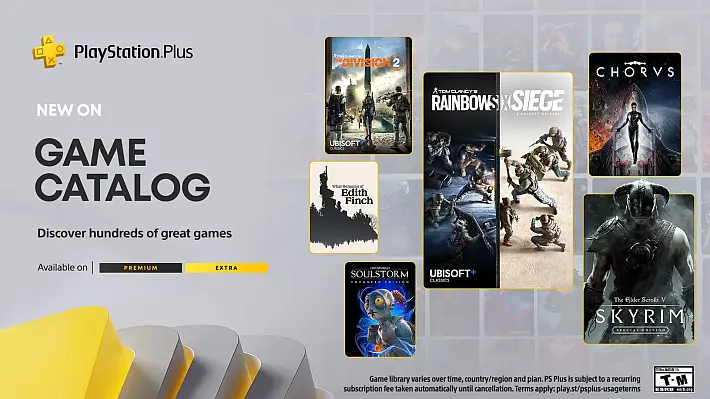 Dopo un primo annuncio che ha visto l'omaggio a cinque capitoli della serie Ratchet & Clank in occasione del ventesimo anniversario, ecco aggiungersi anche altri 15 titoli in arrivo già da martedì 15 novembre.
The PlayStation Plus Game Catalog lineup for November includes:

➕ Skyrim
➕ Rainbow Six Siege
➕ Kingdom Hearts
➕ The Gardens Between

And many more. The full game list: https://t.co/sJYAdMiPbU pic.twitter.com/uUxUXzvnWf

— PlayStation (@PlayStation) November 9, 2022
Dopo i cinque capitoli dedicati a Dragon Quest, i sei capitoli per Assassin's Creed e i tre remastered di Yakuza usciti originariamente su console PlayStation 3, ecco arrivare anche quattro capitoli di Kingdom Hearts.
PlayStation Plus Extra e Premium
The Elder Scrolls V: Skyrim – Special Edition | PS4, PS5
Tom Clancy's Rainbow Six Siege | PS4, PS5
Kingdom Hearts HD 1.5 + 2.5 ReMIX | PS4
Kingdom Hearts HD 2.8 Final Chapter Prologue | PS4
Kingdom Hearts III | PS4
Kingdom Hearts: Melody of Memory | PS4
Oddworld: Soulstorm – Enhanced Edition | PS4, PS5
Tom Clancy's The Division 2 | PS4
Chorus | PS4, PS5
The Gardens Between | PS4, PS5
Earth Defense Force: World Brothers | PS4
Earth Defense Force: Iron Rain | PS4
Onee Chanbara Origin | PS4
PlayStation Plus Premium | Classics
Ratchet & Clank | PS3
Ratchet & Clank 2: Going Commando | PS3
Ratchet & Clank: Up Your Arsenal | PS3
Ratchet & Clank: Deadlocked | PS3
Ratchet & Clank Future: Tools of Destruction | PS3
Fonte: blog.playstation.com