Lo store online della Epic Games questa settimana ci regala Stubbs the Zombie in Rebel Without a Pulse e il bundle esclusivo di Paladins.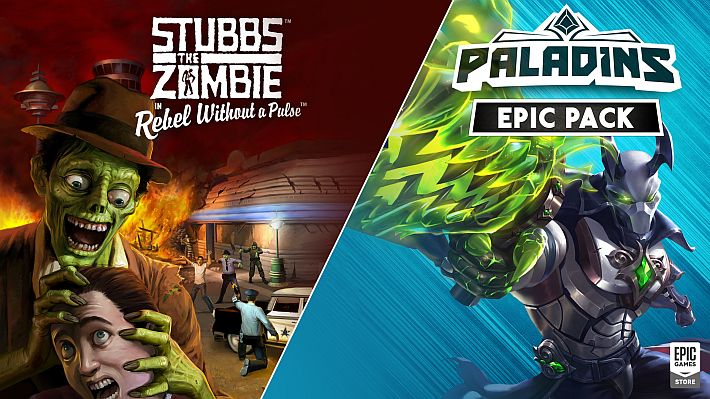 In Stubbs the Zombie il giocatore gioca nei panni di uno zombie con l'obiettivo principale di uccidere gli umani e divorare i loro cervelli. Mangiare cervello restituisce una certa quantità di salute perduta al giocatore oltre a convertire quegli umani in zombi, facendoli combattere al fianco del giocatore.
A 1950s zombie adventure and an exclusive bundle just for you. 👀

The Paladins Epic Pack and Stubbs the Zombie in Rebel Without a Pulse are FREE now! https://t.co/L09RPTOfxh pic.twitter.com/rJOWzCflSc

— Epic Games Store (@EpicGames) October 14, 2021
Il giocatore ha la possibilità di battere a morte un nemico con colpi in mischia o di trasformarlo in zombi. Lo stato di zombi di Stubbs gli impedisce di maneggiare qualsiasi arma convenzionale utilizzando invece una varietà di armi e tecniche di combattimento improvvisate.
Stubbs può guidare anche un'ampia varietà di veicoli, come automobili, trattori e carri armati. Tutte le suddette armi improvvisate, esclusa la mano di Stubbs, convertiranno i nemici in zombi.
Il bundle esclusivo di Paladins invece permette di sbloccare subito 4 campioni, Androxus, Raum, Tyra e Ying, uno per ciascun ruolo e 4 skin, Exalted Androxus, Subjugator Raum, Baroness Tyra e Snapdragon Ying.
Potrete scaricare gratuitamente entrambi i giochi da questo indirizzo, ma affrettatevi, avrete tempo solo fino al 21 ottobre, giorno in cui verrà sostituito da Among the Sleep – Enhanced Edition.
Fonte: twitter.com
Stubbs the Zombie in Rebel Without a Pulse ora è gratis su Epic Games
ultima modifica:
2021-10-14T18:31:57+02:00
da