Microsoft ha annunciato i titoli della Games with Gold per il mese di ottobre, già da venerdì gli utenti abbonati potranno scaricare Aaero e Castlevania: Harmony of Despair, quest'ultimo uscito su console Xbox 360.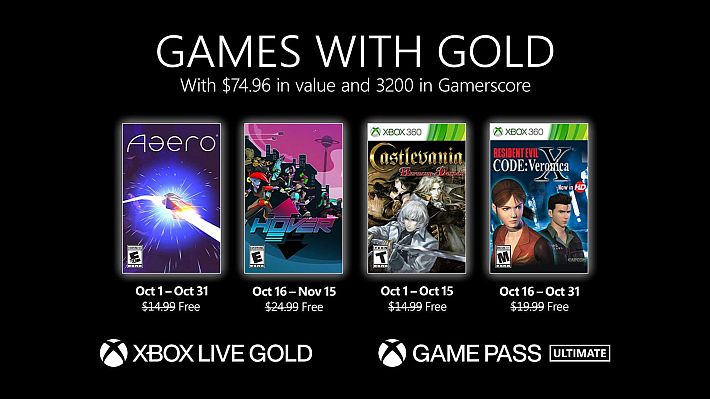 Dal 16 ottobre al 15 novembre sarà possibile scaricare invece Hover, mentre sempre dallo stesso giorno Castlevania: Harmony of Despair verrà sostituito da Resident Evil Code: Veronica X che potrà essere scaricato gratuitamente fino al prossimo 31 ottobre.
Aaero
Attraversa ambienti mozzafiato, tracciando nastri di luce e combattendo epiche battaglie con i boss, il tutto con una colonna sonora incredibilmente autorizzata. Con musica di Noisia, Flux Pavilion, Katy B, The Prototypes, Neosignal e altri, senti il ritmo e libera l'energia che vive nella musica.
Hover
In un futuristico mondo aperto in 3D, unisciti a un gruppo di giovani ribelli, i Gamers, e combatti contro leggi oppressive mentre esegui incredibili trucchi e combo.
Dotato di attrezzatura ad alta tecnologia che consente salti e velocità incredibili, aiuta la cittadinanza e trova un modo per raggiungere la stazione orbitale.
Castlevania: Harmony of Despair
Entra nelle ombre della casa infernale per sconfiggere la tua vecchia nemesi, Dracula. Con la modalità cooperativa a 6 giocatori, seleziona i tuoi cacciatori di vampiri preferiti dai fan di tutta la serie per riportare Dracula al suo sonno eterno.
Resident Evil Code: Veronica X
Ambientato tre mesi dopo la distruzione di Racoon City, aiuta Claire Redfield a viaggiare in Europa per cercare suo fratello scomparso, Chris. Infiltrati nel laboratorio parigino della Umbrella Corporation e sopravvivi all'orda di zombi che ti aspetta.
Fonte: news.xbox.com