Il developer LightningMods ha pubblicato un nuovo strumento su HB Store, formalmente noto come "Updater (POC)" per il firmware 7.55 della PlayStation 4.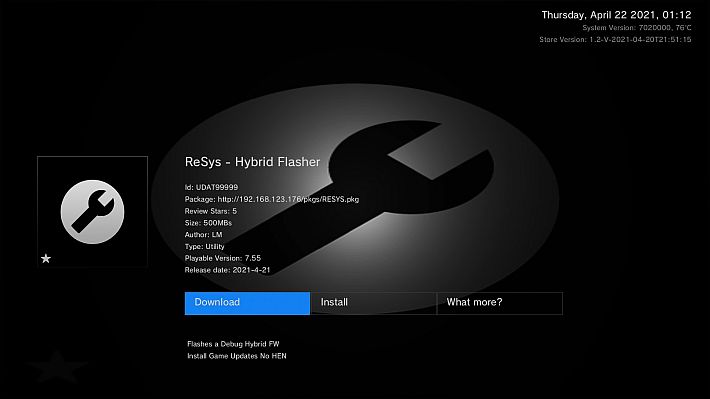 Questa app ribattezzata ReSys – Hybrid Flasher permette di flashare parzialmente il firmware della console PlayStation 4 e PlayStation 4 Pro trasformandola in un TestKit o DevKit per consentire impostazioni di debug permanenti.
Only on the PS4 HB Store/App (7.55 ONLY)

ReSys – Hybrid Flasher

Install official Game Updates from Sony without HEN/Exploit, with permanent Debug Settings pic.twitter.com/uH3m8dAbLR

— __XOR__ (@LightningMods_) April 22, 2021
Non si tratta di un exploit permanente, in quanto non permette di installare pacchetti fPKG, ma solo pacchetti PKG legittimi, come anche demo e contenuti gratuiti.
Questo significa che per eseguire eventualmente i giochi e le applicazione fPKG eventualmente installati bisogna necessariamente attivare HEN e Mira.
Fonte: twitter.com