Lo store online della Epic Games questa settimana ci regala Tales of the Neon Sea, una fantastica avventura pixel art in stile retrò, ambientata in un vivace mondo futuro pieno di intrighi e sospetti.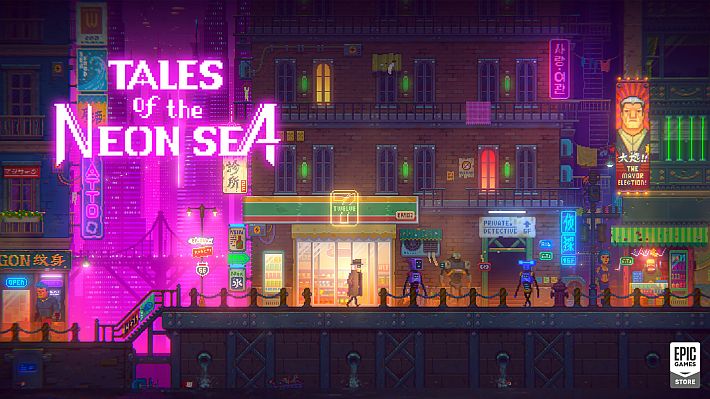 Tales of the Neon Sea è ambientato in un paesaggio urbano cyberpunk dove è possibile incontrerai innumerevoli oggetti, curiosi easter egg e un intero cast di NPC interattivi. Devi analizzare ogni dettaglio e scoprire la verità che si nasconde dietro la fitta nebbia.
Tales of the Neon Sea is a retro-styled pixel-art adventure, set in a vibrant future world of intrigue and suspicion.

Claim it now for FREE on the Epic Games Store!

🔗: https://t.co/wHCDkV7G90 pic.twitter.com/LtEFxaTUrf

— Epic Games Store (@EpicGames) April 1, 2021
Vesti i panni di Rex, poliziotto veterano diventato detective. Indaga sul crimine in un futuro mondo cyberpunk, dove la magnifica città nel cielo oscura il sole, ma le luci al neon non si spengono mai. Risolvi uno strano caso di omicidio che coinvolge indizi di una ribellione di robot.
L'illusione del passato riemerge. La strana attrezzatura all'interno del cervello. Il misterioso pacchetto di prove. L'ombra con una maschera a becco. Tutto indica un caso di omicidio seriale di 13 anni fa.
Un dio semimeccanico manipola il destino di tutti in questa utopia. I ribelli si nascondono nell'oscurità, nel mondo sotterraneo dove crescono baraccopoli caotiche e trucchi. Il nostro detective cercherà indizi e metterà fine ai desideri insoddisfatti.
Potrete scaricare gratuitamente Tales of the Neon Sea da questo indirizzo, ma affrettatevi, avrete tempo solo fino a giorno otto aprile, giorno in cui verrà sostituito da 3 out of 10: Season Two.
Fonte: twitter.com