Sony Interactive Entertainment ha annunciato i giochi che entreranno a far parte del catalogo PlayStation Now, i membri abbonati potranno iniziare a giocare a titoli del calibro di InFamous: Second Son, Ace Combat 7: Skies Unknown e World War Z.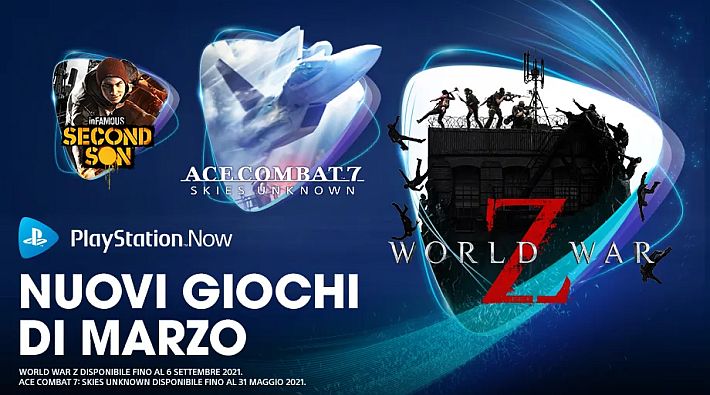 Ad accompagnare i tre titoli presenti nella locandina troviamo anche Superhot, lo sparatutto minimale in prima persona dove il tempo avanza soltanto quando ti muovi.
Soar into battle with Ace Combat 7: Skies Unknown, which joins the PlayStation Now lineup alongside InFamous: Second Son. Full March details: https://t.co/7u4j3Xo2tl pic.twitter.com/80rRtWXF86

— PlayStation (@PlayStation) March 1, 2021
InFamous Second Son
Dal creatore di Ghost of Tsushima arriva un'avventura d'azione superpotente ambientata nell'America moderna. Il potere sovrumano di Delsin Rowe è nelle tue mani.
Spingi al limite le tue fantastiche abilità e guarda come le tue scelte influenzano la città di Seattle e le persone intorno a te: dirotta i poteri di altri superumani, vola attraverso lo skyline di Seattle e scegli come si svolge la tua storia.
Ace Combat 7: Skies Unknown
Allacciati alla cabina di pilotaggio di alcuni dei più formidabili aerei da combattimento del mondo e sfreccia tra le nuvole impegnandoti in audaci acrobazie aeree e combattimenti tattici da brivido.
Immergiti in una realtà alternativa unica in cui si incontrano hardware militare del mondo reale, attuale e del prossimo futuro. Scegli tra una serie di autentici velivoli moderni e futuristici e caricali con un arsenale di super armi all'avanguardia mentre gli eventi in corso ti spingono a confrontarsi con aerei sempre più pericolosi.
Ace Combat 7 include anche missioni esclusive compatibili con PS VR** per creare un nuovo livello di immersione che sfida la morte.
World War Z
Mentre l'umanità è sull'orlo dell'estinzione, pochi induriti si uniscono per sconfiggere le masse di non morti che minacciano il nostro modo di vivere.
Affronta enormi sciami di zombi in campagne basate sulla trama ambientate nello stesso mondo del film di successo, completamente giocabili in modalità cooperativa online per un massimo di quattro giocatori.
Puoi anche scegliere di combattere altri giocatori per la sopravvivenza in una gamma di intense modalità di gioco Player vs Player vs Zombies.
Superhot
Sfumando i confini tra strategia cauta e caos sfrenato, Superhot è l'FPS in cui il tempo si muove solo quando ti muovi. Nessuna barra della salute rigenerante. Nessuna carica di munizioni posizionata convenientemente.
Sei solo tu, in inferiorità numerica e senza armi, ad afferrare le armi dei nemici caduti per sparare, tagliare e manovrare attraverso un uragano di proiettili al rallentatore.
Tutti i giochi si renderanno disponibili da domani.
Fonte: blog.playstation.com