Defense Grid: The Awakening è il gioco offerto oggi dalla piattaforma Epic Games, il tower defense definitivo in grado di attrarre giocatori con diversi livelli di abilità.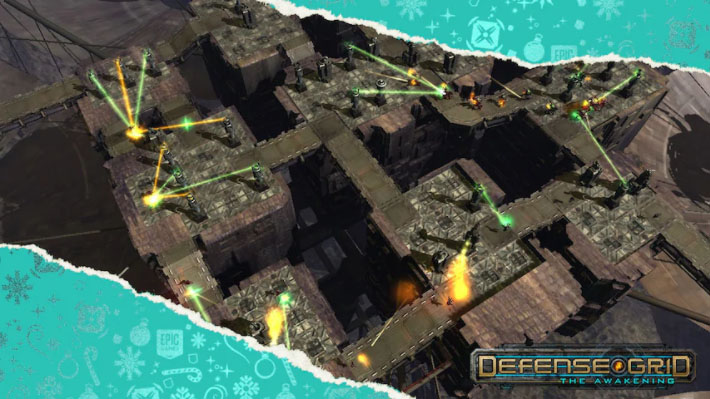 Defense Grid: The Awakening è un gioco strategico dove la posizione delle fortificazioni difensive (torri) cercheranno di impedire agli alieni invasori di rubare i nuclei energetici. Sta a te selezionare le torri, posizionarle e agire in tempo per proteggere al meglio la tua base.
Defend those towers!

Defense Grid: The Awakening is today's free game, available until December 21 (11:00 AM Eastern). Check back tomorrow to unwrap your next gift from the Epic Games Store.https://t.co/rKXQFSpNIO pic.twitter.com/TzT9Nfqjy7

— Epic Games Store (@EpicGames) December 20, 2020
In un lontano futuro, l'umanità lotta contro uno spietato nemico con strategie poco efficaci ma un numero apparentemente illimitato di truppe.
Su un piccolo pianeta, gli uomini sono riusciti a respingere gli invasori usando un'avanzata tecnologia per proteggere i nuclei energetici disperatamente desiderati dagli alieni. Uno dei generali si è offerto volontario per essere caricato nel computer e assistere la colonia in un eventuale ritorno degli alieni.
Se siete interessati, potrete riscattare e scaricare gratuitamente il gioco visitando questo indirizzo. Appuntamento a domani per scoprire il quarto gioco offerto gratuitamente dalla piattaforma.
Fonte: twitter.com
Defense Grid: The Awakening gratuito su Epic Games Store
ultima modifica:
2020-12-20T23:09:40+01:00
da