BootMenu è un menu simile a GRUB che consente di eseguire automaticamente il bootstrap di VitaLinux Baremetal Loader e, a sua volta, di Linux, subito dopo l'avvio.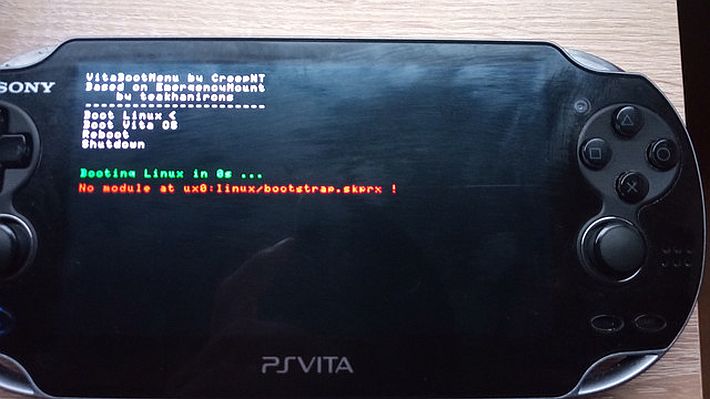 Linux Baremetal Loader (ux0:linux/bootstrap.skprx) deve essere caricato dopo il plugin SD2Vita oppure è necessario posizionare il payload sulla scheda di memoria o memoria interna.
[CBPS F][PSV][Release] BootMenu by @Cr33pNT

> BootMenu is a GRUB-like menu allowing to automatically bootstrap the VitaLinux Baremetal Loader and, in turn, Linux, right after the PSVita boots. Recommended for Ensō users only.https://t.co/GUjMZqe3Rq pic.twitter.com/FVhlsNh9Wt

— dots_tb (@dots_tb) September 22, 2020
Istruzioni per la creazione di VitaLinux qui
Installazione
Scaricare il plugin BootMenu.skprx.
Copiare il plugin sulla scheda di memoria (ad esempio ux0:linux/BootMenu.skprx) o sulla memoria interna (ad esempio ur0:tai/BootMenu.skprx).
Aggiungere questa riga nel taiHEN config.txt:
#Per la memoria interna
*KERNEL
ur0:tai/BootMenu.skprx
#Per la scheda di memoria
*KERNEL
ux0:linux/BootMenu.skrpx
Guida
Su PlayStation Vita
Utilizzare il tasto direzionale e il tasto direzionale per navigare nel menu, o per scegliere un'opzione.
Su PlayStation TV
Premere POWER per interrompere il conto alla rovescia e avviare il sistema operativo PS Vita.
Changelog
Posizionare Linux Baremetal Loader in ux0:linux/bootstrap.skprx.
Download: BootMenu v0.1
Download: Source code BootMenu v0.1
Fonte: forum.devchroma.nl
[Scena PS Vita] Rilasciato BootMenu v0.1
ultima modifica:
2020-09-22T17:33:58+02:00
da