Disponibile un nuovo aggiornamento per l'app Android 6.72 ps4 exploit host, l'applicazione se correttamente eseguita ci permetterà di caricare il jailbreak e iniettare payload su console PlayStation 4 e PlayStation 4 Pro montanti firmware 6.72.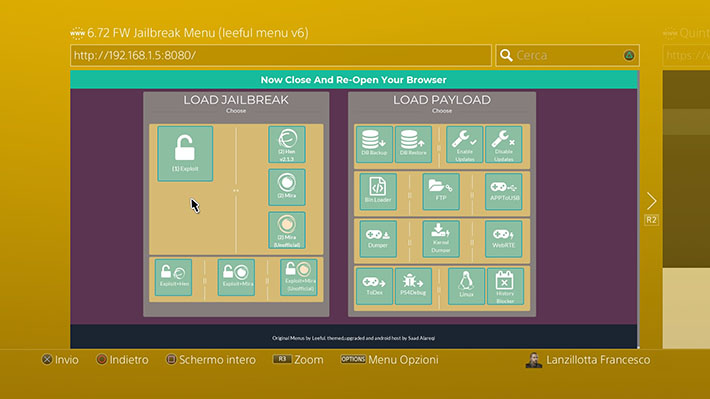 Questa nuova release combina le due versioni 7 e 8 del menu di Leeful con la sola differenza del payload PS4Hen v2.1.3b. Sono stati introdotti anche i menu Wolf Game per firmware 5.05 e 6.72.
Android ps4 exploit host updates released:
-Added Leeful menu v7 & v8 combined (same with difference Hen v2.1.3b) @leeful74
-Added Wolf Games menu 5.05 & 6.72 @mohammad_fadel1
-increased performance for menus and themes.
Get it:https://t.co/04o3j0todn@PS3NewsDOTcom@Joonie86

— SAlareqi (@SaadAlareqi) September 5, 2020
Guida
Scaricare e installare il file .apk sul proprio dispositivo Android.
Eseguire l'applicazione, scegliere un host da Leeful v2 a Leeful v6 e cliccare sul pulsante rosso OFF.
Il pulsante diventerà verde e in basso apparirà un indirizzo IP che dovrà essere digitato sul browser web della console PlayStation 4.
Changelog
Aggiunto menu Leeful v7 e v8 combinato (lo stesso con la differenza Hen v2.1.3b)
Aggiunti menu Wolf Games 5.05 e 6.72
Migliorate le prestazioni per menu e temi.
Download: 6.72 ps4 exploit host v1.3.6
Download: Source code 6.72 ps4 exploit host v1.3.6
Fonte: twitter.com