Microsoft ha annunciato i titoli della Games with Gold per il mese di settembre, gli utenti abbonati già da martedì potranno iniziare a scaricare su console Xbox One Tom Clancy's The Division e de Blob 2.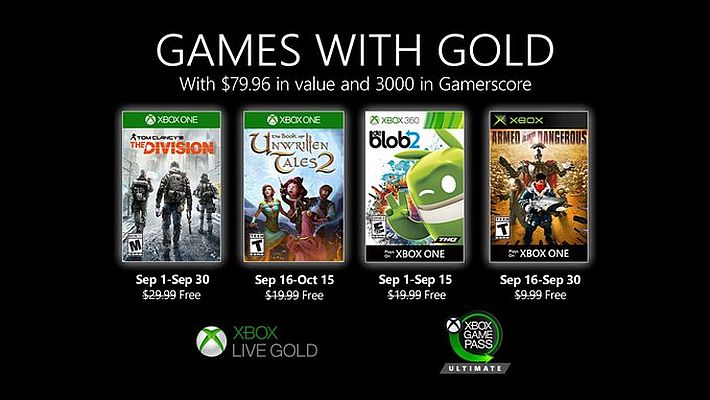 Dal 16 settembre al 15 agosto Override: Mech City Brawl lascerà il posto a The Book of Unwritten Rules 2, mentre sempre dallo stesso giorno de Blob 2 verrà sostituito da Armed and Dangerous che potrà essere scaricato gratuitamente su fino al prossimo 30 settembre.
Protecting NY in Tom Clancy's The Division, pointing AND clicking in The Book of Unwritten Rules 2, bringing color to a drab world in de Blob 2, and saving the world in Armed and Dangerous. It's gonna be a busy month! https://t.co/YoTDIeJDDu

— Xbox Wire (@XboxWire) August 27, 2020
Tom Clancy's The Division
Riprenditi New York City dopo che è caduta nel caos. Questo sparatutto online è un'esperienza rivoluzionaria, che combina una solida personalizzazione dei giochi di ruolo e un combattimento d'azione tattico.
Partecipa a una massiccia campagna cooperativa, affronta altri agenti e guadagna equipaggiamento all'avanguardia, mentre raggiungi il tuo obiettivo: proteggere ciò che rimane e ripristinare la speranza.
The Book of Unwritten Rules 2
Le leggende lo hanno predetto e le profezie lo hanno predetto: The Book of Unwritten Tales 2 è disponibile nella lineup Games with Gold di settembre. La continuazione della saga d'avventura punta e clicca imita in modo esilarante alcune delle storie fantasy più amate e famose mai scritte.
Con oltre 20 ore di storia, aiuta l'eccentrico cast di personaggi a compiere il proprio destino nel difficile mondo di Avantasia.
de Blob 2
Parti per un'avventura colorata e ricca di azione. Gli Inkies sono tornati con una nuova trama per liberare il mondo dal colore e spetta a Blob fermarli.
Dotato di una funzionalità di pittura unica come meccanica di gioco principale, questo platform mostra 12 nuovi livelli per giocatore singolo, supporto multiplayer ed epiche battaglie contro i boss.
Armed and Dangerous
Ottieni la vittoria con 12.000 proiettili o meno in questo classico titolo Xbox. Incontra i Lionhearts, una banda di ribelli che parla schifosamente in una missione impossibile per salvare il mondo, se non lo bruciano prima.
Con una storia spiritosa che fa la parodia dei media popolari, brandisce armi stravaganti e spara attraverso 21 livelli pieni di azione.
Fonte: news.xbox.com