Disponibile una versione rivisitata di PS4 PKG Tool, l'applicazione sviluppata dal developer pearlxcore ci permette di eseguire diverse operazioni sui file PKG della PS4.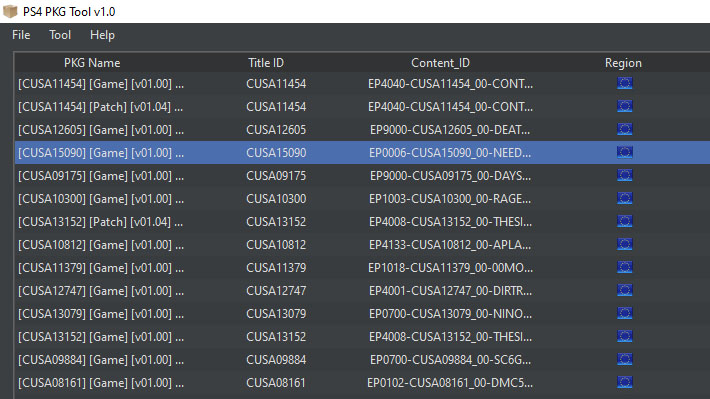 Alcune caratteristiche e funzionalità sono state disabilitate in quanto non funzionano correttamente in questa prima versione (li troverete elencate in basso nella sezione Cose da fare).
Not sure if anyone is interested in this. But here is the new version of PS4 PKG Tool.

— pxc (@pearlxcore) July 21, 2020
Caratteristiche
Scansiona e visualizza la raccolta dei file PKG per PS4.
Visualizza le informazioni PKG come le informazioni sui parametri PKG, l'elenco dei trofei PKG e la voce PKG.
Rinomina ed esporta PKG in file Excel.
Controlla l'aggiornamento PKG.
Cose da fare
Aggiungere il controllo DLC.
Aggiungere il controllo degli aggiornamenti PKG.
Aggiungere lo strumento di backport PKG.
Aggiungere informazioni di intestazione PKG.
Aggiungere un metodo per estrarre i PKG.
Aggiungere hash e firme PKG.
Aggiungere funzionalità per separare PKG in base alla categoria (gioco/patch/addon).
Aggiungere un generatore Fake PKG per PS2.
Aggiungere un generatore Fake PKG per PS1.
Aggiungere funzionalità per impostare l'immagine PKG come immagine di sfondo del desktop.
Aggiungere un nuovo formato di ridenominazione PKG per evitare errori di ridenominazione: [TITLE_ID] [CATEGORY] [VERSION] TITLE, TITLE [CATEGORY] [VERSION]. Rinominare il gioco e il suo aggiornamento PKG nella stessa directory genererà un'eccezione: impossibile creare un file quando il file esiste già.
Download: PS4 PKG Tool v1.0
Download: Source code PS4 PKG Tool v1.0
Fonte: Github.com
[Scena PS4] Rilasciato PS4 PKG Tool v1.0
ultima modifica:
2020-07-22T16:11:46+02:00
da