Un nuovo bundle della Playstation 4 con tre titoli rimasterizzati in arrivo entro la fine del mese in Gran Bretagna, disponibile al modico prezzo di £ 289,97.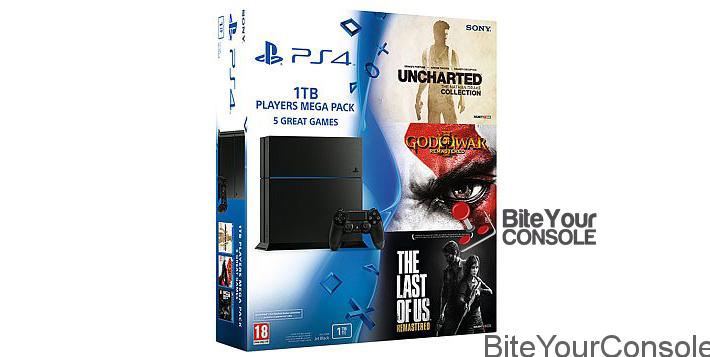 La console che si vede nell'immagine sopra è la Player Ultimate Edition con disco rigido da 1 TB, da notare come la scatola presenti la dicitura "5 GREAT GAMES" (5 grandi giochi), questo perchè nei tre titoli rimasterizzati figura Uncharted: The Nathan Drake Collection che raccoglie tutti i tre capitoli della saga.
Proprio oggi è stato rilasciato l'aggiornamento 1.02 per il remastered della Naughty Dog che dovrebbe migliorarne la grafica e la stabilità, oltre a correggere diversi bug qualitativi. Gli altre due giochi presenti nel bundle sono l'ormai famoso The Last of Us e God of War III Remastered.
La Players Mega Pack al momento si rende disponibile solo attraverso il pre-ordine da GameStop UK, ma siamo quasi certi che arriverà presto anche da noi.