Tramite il portale VGLeakz  è trapelato un nuovo leak riguardante le future caratteristiche di XBox720.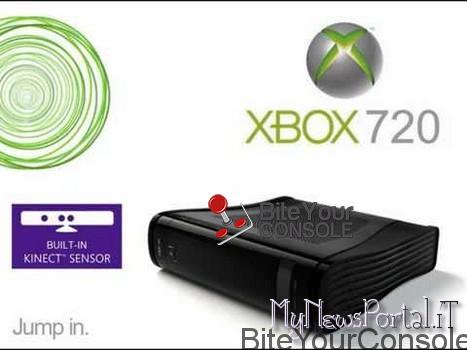 Tra le caratteristiche più interessanti troviamo conferma della presenza di un processore a 64 bit ad 8 core, ciascuno da 1.6 Ghz.
La nuova console di Microsoft avrà ….
8GB di RAM DD3, un lettore Blu-Ray 6x e similmente ai più recenti computer 32MB di memoria SRAM, estremamente utili a velocizzare il lavoro del processore andando ad alleggerire il carico di lavoro sul lettore ottico e sull'hardisk.
In oltre la GPU supporterà le DirectX 11.1, avrà un clock di 800 Mhz e complessivamente raggiungerà 1.2 Teraflop.
Kinect sarà parte integrante della nuova console di Redmond, forse i suoi sensori saranno addirittura integrati nel case del dispositivo.
L'hard-disk contrariamente ad alcune versioni precedenti di Xbox non sarà, per ovvi motivi, un optional e per quanto riguarda la connettività sarà presente una porta HDMI1.4a, Wi-Fi 802.11n e alcune porte USB 3.0.
Contrariamente a Sony invece non è chiaro se il controller classico di Xbox verrà pesantemente rivisto, come nel caso del Sony DualShock, o se rimarrà simile al modello passato.
Della data di lancio invece non si sa ancora nulla, ma a questo punto è chiaro che Sony e Microsoft stanno solo temporeggiando per studiare le mosse avversarie.
Queste le caratteristiche ufficiali trapelate su VGLeakz
CPU:
– x64 Architecture
– 8 CPU cores running at 1.6 gigahertz (GHz)
– each CPU thread has its own 32 KB L1 instruction cache and 32 KB L1 data cache
– each module of four CPU cores has a 2 MB L2 cache resulting in a total of 4 MB of L2 cache
– each core has one fully independent hardware thread with no shared execution resources
– each hardware thread can issue two instructions per clock

GPU:
– custom D3D11.1 class 800-MHz graphics processor
– 12 shader cores providing a total of 768 threads
– each thread can perform one scalar multiplication and addition operation (MADD) per clock cycle
– at peak performance, the GPU can effectively issue 1.2 trillion floating-point operations per second
High-fidelity Natural User Interface (NUI) sensor is always present
Storage and Memory:
– 8 gigabyte (GB) of RAM DDR3 (68 GB/s)
– 32 MB of fast embedded SRAM (ESRAM) (102 GB/s)
– from the GPU's perspective the bandwidths of system memory and ESRAM are parallel providing combined peak bandwidth of 170 GB/sec.
– Hard drive is always present
– 50 GB 6x Blu-ray Disc drive
Networking:
– Gigabit Ethernet
– Wi-Fi and Wi-Fi Direct
Hardware Accelerators:
– Move engines
– Image, video, and audio codecs
– Kinect multichannel echo cancellation (MEC) hardware
– Cryptography engines for encryption and decryption, and hashing
Stay Tuned!
Fonte  PianetaTech
[Rumor] XBox 720: tutte le caratteristiche possibili!!!
ultima modifica:
2013-01-22T22:22:32+01:00
da