Pochi minuti fa sul sito The Loop sono stati pubblicati gli inviti ufficiali inviati da Apple per l'evento che si terrà il prossimo 23 ottobre.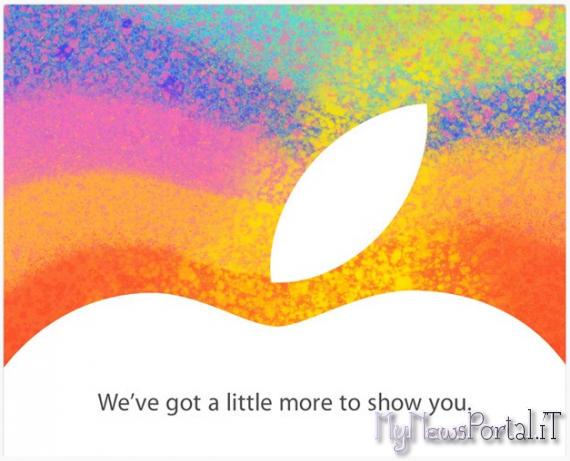 Come riportato dal noto sito Apple ha finalmente ufficializzato il prossimo evento che con ogni probabilità svelerà l'attesissimo iPad Mini Jim Dalrymple di The Loop, Apple ha ufficializzato il prossimo evento mediatico che si terrà il 23 ottobre. Con ogni probabilità verrà presentato l'attesissimo iPad mini!
Le caratteristiche di questo iPad non sono ancora note ma si vocifera che monterà uno schermo da circa 8 pollici e che dovrebbe essere in vendita a parire dai primi giorni di novembre.
Nel nel corso dell'evento dovrebbe essere anche presentati i nuovi MacBook Pro  da 13 pollici con il display retina, una nuova versione del Mac mini e una di iMac.
Per il momento non ci sono altre indiscrezioni, tuttavia il giorno dell'evento avrete modo di trovare un articolo dedicato all'evento e ai prodotti presentati.
Apple annuncia ufficialmente l'evento del 23 ottobre!
ultima modifica:
2012-10-16T18:26:27+02:00
da