In questo giornata di metà Settembre, tiggazPS3, ha pensato bene, per la gioia di tutti noi, di rilasciare il fix per Uncharted 3: Drake's Deception Game of the Year Edition (). Il fix è compatibile con CFW 3.55/3.41.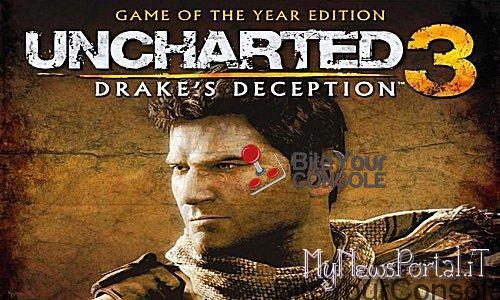 Di seguito i vari download con una mini guida per l'istallazione.
Download 

Fix 1
Download Fix 2
Come istallare:
Scaricare entrambi i file
Istallare il primo file pkg
Istallare il secondo file pkg
Enjoy!
 Assicurarsi di avere la versione di gioco compatibile con il codice—>BCES01670
Per avere tutti i DLC e quindi l'aggiornamento 1.14 del gioco dovete seguire questi passaggi:
Scaricare e istallare  il seguente pkg (che fa riferimento all'update 1.13)—>LINK diretto
A questo punto istallare il fix per quanto riguarda l'aggiornamento 1.14—>LINK
Vi troverete con il gioco completo di tutti i DLC,
Buon divertimento!
Rilasciato fix CFW 3.55/3.41 per Uncharted 3: Drake's Deception Game of the Year Edition
ultima modifica:
2012-09-18T17:23:29+02:00
da