A quanto pare il famoso gioco sparatutto Call Of Duty, secondo la rivista brittanica The Sun, viene utilizzato dai terroristi per programmare attentati terroristici nella vita reale.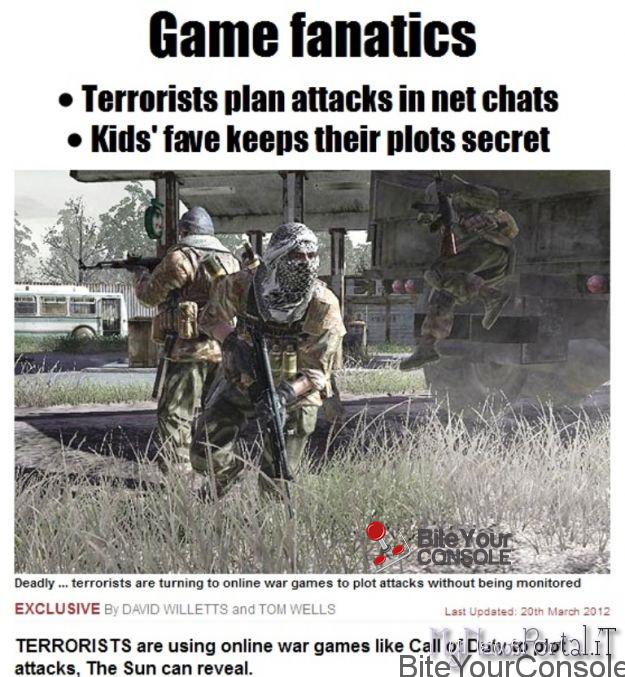 Nella rivista però, oltre a COD, vengono menzionati anche altri giochi sparatutto…
tra cui Halo e Medal Of Honor.
Di seguito quanto detto sul giornale:
Gli estremisti islamici sanno che i poliziotti monitorano le chiamate telefoniche, le email ed i messaggi online.

Quindi sono passati sui giochi PlayStation ed Xbox per mantenere i loro piani di morte segreti.

I giocatori possono connettersi a gruppi per giocare gli uni contro gli altri e, di conseguenza, per chattare in privato. Una volta entrati in una 'lobby' usando una password, gli attentatori indossano l'headset Bluetooth e parlano con sicurezza di non essere intercettati con cospiratori sullo stesso sito.

Loro si uniscono in gruppi di gioco su Internet e discutono di piani del terrore. Le persone che si occupano della sicurezza ne sono già a conoscenza, Ma per milioni di persone che amano questi giochi sarà uno shock enorme.
Che la rivista britannica abbia esagerato?
Oppure
In mezzo a dei normalissimi giocatori, che giocano a combattere il terrorismo,
sono insidiati dei veri terroristi?
Stay tuned!
Call Of Duty: anche i terroristi ci giocano?
ultima modifica:
2012-03-21T14:37:06+01:00
da