Per la felicità di molti possessori del JB-King c'è una grande notizia, il dongle si è aggiornato alla versione 2.5. Con tale aggiornamento il JB-King supporterà tutti i giochi più recenti, cioè gli stessi che supporta tutt'ora il True Blue. Per chi ancora non conosce il JB-King, possiamo dire che è uscito qualche mese fa, come clone perfetto del true blue, ma una volta che il true blue subì l'ultimo aggiornamento (il 2.5) , il JB-King rimase al palo, non dando la possibilità agli utenti di usufruire delle ultime patch rilasciate dal team Paradox. Ricordiamo che i due dongle permettono di avviare giochi 3.6+ da firmware 3.55 sia da HD interno che da esterno.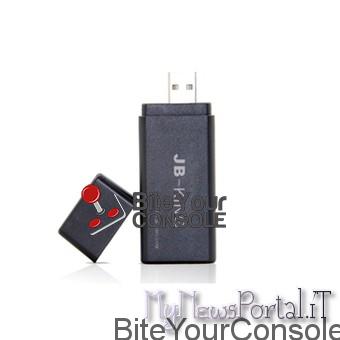 Di seguito troverete tutti i dettagli del nuovo aggiornamento del JB-King.
JB-King can support latest upgrade 2.5 games!!!

1.After upgrade 2.5,JB-King could support all functions of TB2.5

2.JB-King has its true ability to break any updated content and plugging of TB2.X in the future.

3.JB-King can break any disc games of TB,allow players to clone disc on their own.(We may release all of them when update next time)

4.JB-King has ability to release game eboot,which has been modified and only support JB-King.Most important is that we will not use special disc.

5.JB-King price will be easilier approach soon
In queste poche righe il team spiega che con questo nuovo aggiornamento il JB-King diventa identico al True Blue e supporta tutti gli ultimi giochi resi disponibili dal team paradox. Il team aggiunge che molto presto saranno rilasciati degli EBOOT propri, cioè creati dal team stesso, e che il prezzo del dongle presto scenderà per rendere più appetibile il JB-King.
Di seguito il video prova:
httpv://youtu.be/Jlsy1nfWClE
Per tutti coloro che utilizzano il dongle di seguito troverete il download dell'aggiornamento e la guid per aggiornare il dongle stesso.
Aggiornamento JB-King 2.5—>DOWNLOAD DIRETTO
Procedura
Updated method Please follow the procedure, or it will be difficult for you to play games smoothly.)

Press on JB-King upgrade switch and plug in main USB interface. Open "Upgrade.exe" and upgrade "updrade2.5.dfu". Then pull out JB-King and close "Upgrade.exe"
 Do not press on JB-King power switch. Plug it into PC. After about 5-8 seconds, pull out JB-King.

Press on JB-King upgrade switch power again, and plug it into USB interface. Open "Upgrade.exe" and upgrade "S_2.5.dfu". The process will last for a longer time, please be patient!

 If you get tips as follows, congratulation! You upgrade successfully.
Have Fun!
[AGGIORNATO] JB-King si aggiorna ed ora supporta tutti i nuovi giochi
ultima modifica:
2012-03-16T20:11:05+01:00
da