In seguito all'aggiornamento che supportava la riproduzione di filmati in 3D anche senza l'ausilio di una tv che supporta la tecnologia, Deank, rilascia un'altro update per il "suo" MultiMan che raggiunge così la versione 04.02.04.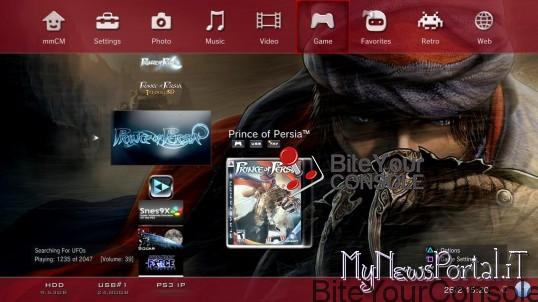 Di seguito la changelog e download.
[UPDATE] multiMAN v04.02.04 Released With 3D Playback
Today developer deank releases an interesting new update for multiMAN it includes3D AVI support for your jailbroken PS3 console. Even if your TV does not support 3Dyou can still use Red-Cyan glasses.
Changelog:
Added experimental/POC support for frame-packed 3D video playback
Video files in AVI 3D format must be named with .avi3d (AVI3D) file extension
SIDE-BY-SIDE 3D: 1920x 720 ( 960×720 frame per eye)
TOP-BOTTOM(O/U): 1280×1080 (1280×540 frame per eye)
Simple video controls in stereo player: [START] – Pause playback, [CIRCLE] – Quit playback, [UP/DOWN/LEFT/RIGHT] – Adjustments for anaglyph mode
If TV set does not support 3D video playback – 3D AVI files will be played back in red/cyan anaglyph mode (Red-Cyan glasses needed)
Download multiMAN v04.02.03 Two stereo samples in SBS and TB format (xvid_encraw used for encoding)
[UPDATE multiMAN v04.02.04 15/03/2012]
Changelog multiMAN v04.02.04:
* Fixed rare issue when launching video files from NTFS and /net_host (when file is >2GB and there is no space on /dev_hdd1)
* Added support for playing video files (including AVI3D) from NTFS drives and remote /net_host servers
* Returning from Stereo Player will fall back to standard 2D mode
* Stereo files (avi3d) in 1920×1080 resolution are treated as SBS 960×1080 per eye (default)
* Audio output uses Dolby Digital if available (for 5.1 AC3 audio)

* Controls:
[START]    – Pause / Resume
[RIGHT / LEFT]  – Skip 120 sec forward/rewind
[DOWN / UP]  – Skip 10% forward/rewind
[SELECT]  – Toggle 4x fast-forward / normal playback
[R3]    – Toggles SBS and TB/OU modes if autodetection fails
[CIRCLE]  – Return to mM
[TRIANGLE]  – Exit to XMB
[L1/R1/L2/R2]  – Change L/R-eye color bias in anaglyph display mode
Per tutti coloro che utilizzano MultiMan di seguito il download dell'aggiornamento—>LINK
Have Fun!