Il coder Deank, creatore del backup manager, ha rilasciato un sostanziale aggiornamento per il proprio programma. Era da molto tempo che non avevamo notizie riguardanti uno dei più famosi backup manager in circolazione, l'aggiornamento rilasciato rende compatibile MultiMan anche con quelle console con CF che non hanno il dongle Cobra usb.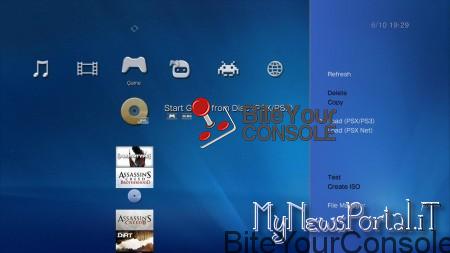 Ma andiamo a vedere la changelog e il link per il download diretto:
Added function "Create ISO from folder"
Support for *.0/.31, *.001/.032, *.66600/.66631 split file formats
Join split files in file manager (select and copy the first file to get the rest joined)
New display mode "XBDM" – XBOX Dash Clone
Added option "Detect Game Title in ISO Images" to allow using ISO filenames and *not* scan for game names in local database
Improved scanning for retro roms/iso and covers (populating the Retro column)
New THEME format (.thm). One theme – one file. Easy installation within multiMAN/mmCM without going to XMB to install theme pkg files.
mmTM – Easy to use PC application to create thm files from folders (separate download).
multiMAN/mmCM will try to read disc volume labels and display in VIDEO column (BD/DVD entry) and in other display modes.
Added indication (rotating refresh icon next to the column icon) when multiMAN/mmCM is loading/extracting title thumbnails (XMMB [mode)*]Added pop-up notifications when new versions of multiMAN/mmCM and Showtime are available for download
Added pop-up notification when running low on disc space (less than 1GB on internal HDD)
Added pop-up notification when multiMAN/mmCM successfully connects to nethost folders during startup (/net_host# in File Manager)
Added support for downloading themes in a background thread (pop-up messages will notify user when download starts and completes)
Added support for copying big (4+GB) files in File Manager to USB drives. multiMAN/mmCM will split source file when copying to USB.
Changed option "Link Video Library to Showtime" – it will only create links for XMB Video files, but will not start Showtime
Added shortcut (virtual folder) "XMB Video Files" when browsing HDD/USB drives in VIDEO column
Added "Showtime Font Preference" option to select 10 different fonts for SHOWTIME media player (GUI and Subtitles)
Added support to extract PSP CSO (compressed ISO) files in XMMB/XBDM display modes and File Manager (extracted image is saved in /dev_hdd0/PSPISO)
Added shortcut to ISO folder when browsing external USB devices (PSP connected with memory stick /ISO folder, containing CSO and ISO files)
Added music playback fade-out when leaving multiMAN/mmCM
Added download progress indication in XMMB/XBDM modes – Web column. An entry will show current download filename and percentage of completion.
Added TextViewer in File Manager (supported files colored in light blue). Supports viewing of ANSI/UTF plain text files.
TextViewer controls: L1/R1 – PageUp/PageDown, L2/R2 – zoom out/in (50%-250%), R3 – change font, UP/DOWN/LEFT/RIGHT – scroll/pan, L1/R1+SELECT – skip to start/end of file
Added support for browsing Video, Games, Favorites and Retro (ROMS/PS1/PS2/PSP) in "Coverflow" display mode. Change content mode with UP/DOWN.
Improved performance when extracting CSO to ISO and when creating ISO files from folders
SIXAXIS gyroscope affects screensaver mode (wave/tilt the controller to navigate the starfield)* Improved "Coverflow" display mode
Come possiamo notare l'aggiornamento è veramente corposo e pieno di novità.
Per tutti coloro che vogliono scaricare il programma vi rimandiamo al download—-> QUI
Have Fun!
(Visited 59 times, 1 visits today)